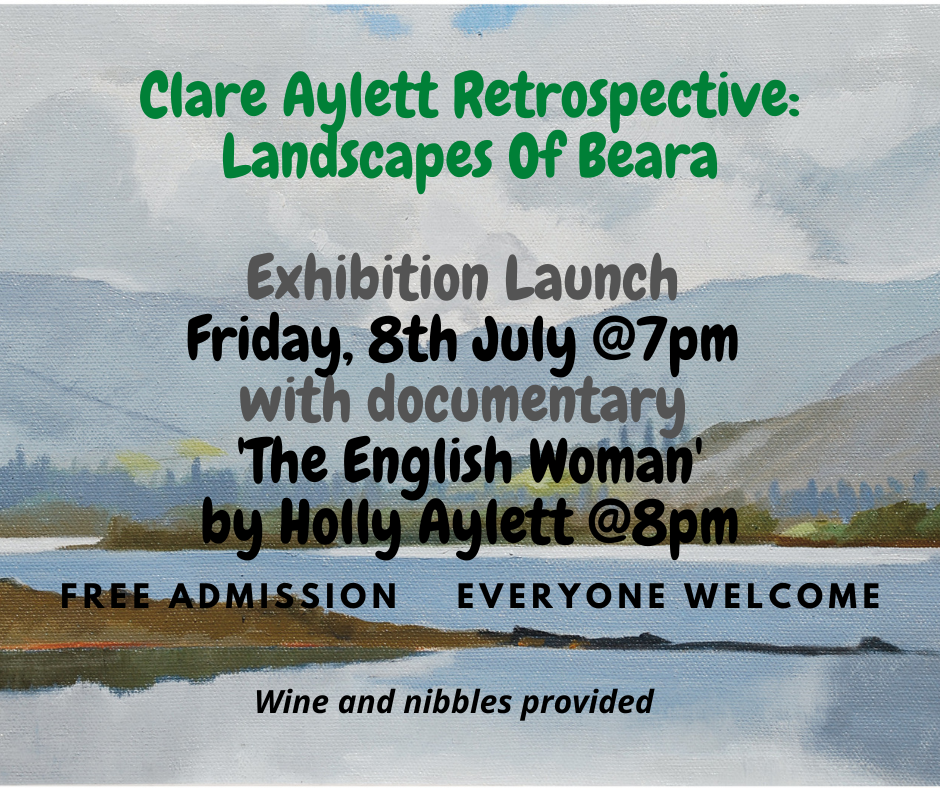 For fifty years, Clare Aylett (1925 – 2021) painted light and landscape on the Kerry side of the Beara Peninsula, in oil and watercolour.  Her daughter, Holly, has curated a selection of these beautiful works to exhibit, and has also made a short documentary about her mother's life, 'The English Woman,' which will screen on the night of the launch.
In the mid seventies aged fifty, Clare Aylett moved permanently from London to Ireland having recently restored the Tailor's House in Kilmacalogue. The tailor's claim to fame was that he had once made a suit for Bernard Shaw but the house had long been abandoned. There was no electricity on the lane and drinking water had to be brought from the well nearby, so it was a challenge for a solo woman. However, she was happy sharing in the community which revolved around Joan and Teddy O'Sullivan's (now Helen's Bar) and which she adopted, becoming known in the neighbourhood as 'The English Woman'.
In England almost nothing was taught in schools about the colonial relationship between England and Ireland, and history of exploitation, so she bought every book that she could to understand the past in the present she was now a part of, and joined the Kerry Historical and Archaeological Society to which she contributed some articles as well as to the annual Tuosist parish magazine. She was also passionate about conservation and planning for a sustainable environment, and became Secretary of the Kerry branch of An Taisce, the national trust of Ireland.
As a painter her main interest was light, and the way light filters everything in landscape, constantly shifting, rapidly changing the tones and colours, reshaping the forms of the hills in each moment of the day, and the turn of each tide. She never worked from photographs. Instead she would capture effects in watercolour and return to her studio to work up her studies in oil on canvas. Many of her oils were gifted to neighbours and friends who have kindly loaned the work for this exhibition.
The exhibition runs from 4th – 22nd July.  Opening hours: Tuesday – Friday, 10:00am – 5:00pm.